High efficiency centrifugal fans available with different blade configurations like FORWARD CURVE BLADE , BACKWARD CURVED BLADE, BACKWARD CURVED AEROFOIL BLADE, BACKWARD INCLIENT BLADE, RADIAL BLADE AND RADIAL BLADE WITHOUT SHROUD for different application. Fans can be available in SS/MS/ALU./FRP contraction.

Centrifugal Fans
consist of a wheel or a rotor mounted on a shaft that rotates in a scroll-shaped housing. Air en ers at the eye of As rotor, makes a right-angle turn, and is forced through the blades of the rotor by centrifugal orce into As scroll-shaped housing. The centrifugal force imparts static pressure to the air. The diverging shape of the scroll also converts a portion of the velocity pressure into static pressure.

There are three main types of centrifugal fans:


Radial-blade fans - Radial-blade fans are used for heavy dust loads. Their straight, radial blades do not get clogged with material, and they withstand considerable abrasion. These fans have medium By speeds and medium noise factors.



Back-ward-blade fans - Backward-blade fans operate at higher tip speeds and thus are more efficient. Since material may build up on As blades, these fans should be used after a duo collector. Although they are noiser than radial-blade fans, backward-blade fans are commonly used for large volume dust collection systems because of their higher efficiency.



Limit Load Type Fans - These fans have LL type curved blades that are tipped in the direction of rotation. They have low space requirements, low tip speeds, and a low noise factor. They are usually used against low to moderate static pressures.
CAPACITIES : 100 m3/hr. to 3,00,000 m3/hr. at a pressure of 10 mrnWG to 1400 mmWG.
Axia -flow Fans
Axial-flow fans are used in systems that have low resistance levels. These fans move the air parallel to the ton's axis of rotation. The screw-like action of the propellers moves the air in a straight-through parallel path, causing a helical flow pattern.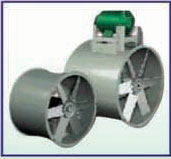 The three main kinds of axial fans are:


Propeller fans - These fans are used to move large quantities of air against very low static pressures. They are usually used for general ventilation or dilution ventilation and are good in developing up to 0.5 in.



Tube-axial fans - Tube-axial fans are similar to propeller fans except they are mounted in a tube or cylinder. Therefore, they ore more efficient than propeller fans and can develop up to 3 to 4 in. They are best suited for moving air containing substances such as condensible fumes or pigments.



Vane-axial fans - Tone-axial fans ore similar to Abe-axial fans except air-straightening vanes ore installed on the suction or discharge side of the rotor. They are easily adapted to multistoging and can develop static pressures as high as 14 to 16 in. wg (3.483 to 3.98 kPa). They are normally used for clean air only. Aerofoil bladed axial flow fans, high strength aluminium alloy costing blades. Fixed blade and adjustable both are available. Suitable for ventilation systems, exhaust, air washer system, workshops warehouse, tunnel ventilation etc.
CAPACITIES : 1000 m3/hr. to 2,00,000 m3/hr. at a pressure of 10 mmWG to 150 mmWG.
Bag Filter / Fabric Filter
Commonly known as baghouses, fabric collectors use filtration A separate dust particulates from dusty gases. They are one of the most efficient and cost effective types of dust collectors available and can achieve a collection efficiency of more than 99% for very fine particulates. Dust-Aden gases enter As baghouse and pass through fabric bags that act as filters. The bags can be of woven/ non-woven or felted polyester / cotton, names / ryton or glass-fiber material in o tube shape. The high efficiency of these collectors is due to the dust cake formed on the surfaces of the bags. Bogs are cleaned periodically with fully automatic bog cleaning devices by compressed is pulse.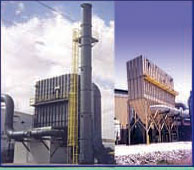 LOW MAINTANANCE COST


LOW POWER CONSUMPTION


EASY REPLACEMENT OF SPARES


HIGH EFFICIENCY

High-energy Scrubbers
Venturi scrubbers consist of a venturi-shaped inlet and separator. The dust-laden gases venturi scrubber Ether through the venturi and are accelerated A speeds between 12,000 and 36,000 ft/min (60.97-182.83 m/s). These high-gas velocities immediately atomize the coarse water spray, which is injected radially into the venturi throat, into fine droplets. High energy and extreme turbulence promote collision between water droplets and dust particulates in the throat. The agglomeration process between particle and droplet continues in the diverging section of the venturi. The large agglomerates formed in the venturi ore then removed by an inertial separator. Venturi scrubbers achieve very high collection efficiencies for respirable dust. Since efficiency of a venturi scrubber depends on pressure drop, supply a variable-throat venturi to maintain pressure drop with varying gas flows.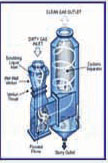 Cyclone Separator
Cyclonic separation is a method of removing from an air, gas or water stream, without the use of Filter, through vortex separation. Rotational effects and gravity are used to separate mixtures of solids and fluids.

A high speed rotating (air)flow is established within a cylindrical or conical container called a cyclone. Air flows in a spiral pattern, beginning at the top (wide end) of the cyclone and ending at the bottom (narrow) end before exiting the cyclone in a straight stream through the center of As cyclone and out the top. Larger (denser) particles in the rotating stream have too much inertia to follow the tight curve of the stream and strike the outside wall, falling then A the bottom of the cyclone where they can be removed. Ina conical system, as the rotating flow moves towards the narrow end of the cyclone the rotational radius of As stream is reduced, separating smaller and smaller particles. The cyclone geometry, together with , defines the cut point of the cyclone. This is the size of particle that will be removed from As stream with a 50% efficiency. Particles larger than the cut point will be removed with a greater efficiency, and smaller particles with a lower efficiency.

MINIMUM MAINTANANCE COST


LOW POWER CONSUMPTION


HIGH EFFICIENCY


HIGH TEMPERATURE OPERATION

List of Products

CENTRIFUGAL FANS / BLOWERS


AXIAL FLOW FANS


PULSE JET BAG FILTER (ON-LINE, OFF-LINE, INSERTABLE CARTIDGE )


CYCLONE SEPARATOR (SINGLE /MULTICLONE)


WET SCRUBBER (VENTURY /PACKED BED)


HEAT EXCHANGER /FD COOLER (WATER / AIR COOLED) e AIR WASHER

Project (On Turnkey Basis)

FUME / DUST EXTRACTION SYSTEMS


AIR HANDLING / HUMIDIFICATION PLANT


VENTILATION SYSTEMS

Modification / Maintanance

EXISTING FUME / DUST EXTRACTION SYSTEMS


ELECTROSTATIC PRECIPITATOR (ESP)


EXISTING VENTILATION SYSTEMS


SCREW CONVEYOR, ROTARY AIR LOCK VALVE
Application
• CEMENT INDUSTRIES • CUPOLA FURNACE • PROCESS PLANT • LIME INDUSTRIES • GLASS MELTING FURNACE • PLY WOOD INDUSTRIES • REFRACTORY • COAL WASHERY • SUGAR MILL • SPONGE IRON o BOILER FLY ASH o PAPER MILL • FERROALLOYS (SUBMERGED ARC • STONE / IRON CRUSHER • RICE MILL FURNACE) • ROLLING MILL • FLOUR MILL • ELECTRIC ARC FURNACE • TEA PROCESSING PLANT etc.